Born into a family of German immigrants, who during the sign of Catherine II moved from the German Mannheim to Odessa. They were engineers, artists, merchants. Adventurism , passion for a new, natural sense of taste and style in the genetic wealth, which gave Anna her ancestors. As well as a ability to see the beauty and joy, especially inside.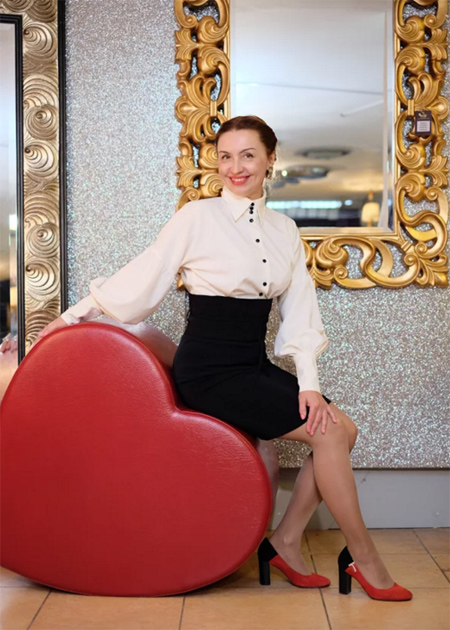 As a creative designer and artist, Anna Schatz is a cosmopolitan person. Most of her projects and painting featured are inspired by examing familiar materials in a new light. This in itself carries away from traditional methods and materials and old-fashioned styles toward the freshness of experimental design.
Her stile can be explained as elegant and luxurious. Anna's materialized desire is to create extraordinary products from ordinary materials in her architectural and design projects. She has focused her creative efforts on high-end interior design, working with the customers from Switzerland, Czech Republic, Nairobi in Kenya, Hong Kong, China, South Korea and, of course, Russia. Her creations are the perfect quality of work, a combination of convenience and comfort with elegance in projects and pictures.
Even such lifeless materials as glass and stone which use Anna in her projects, become full of light and life in comfort and human interiors. As a painter Anna create not only architectural object but character, lifestyle and image with its own atmosphere in her architectural and design projects. In poetry, Anna Schatz also goes her own way. Her poems are filled with reflection and meditation.
Their syntax - viscous and hypnotic - is largely the product of her true voice. Often, just a single line taken from her poems turns into a global metaphor, the meaning of which «elucidates» as we view the pictorial and graphic statements of Anna Schatz, because it includes many other meanings, shades, images that are intricately intertwined following the author's feeling and her endeavors to adequately comprehend and express the essence of phenomena, not simplifying or distorting them.